チャレンジ
Patent applied
Engineering problems in the past and our proposals
In the past, we had problems of temperature difference between tool plate and slide core if we could not install the same cooling system in slide core as did for the tool plate.
Creating water path in slide core would not solve problems especially for the small slide because of the reasons of complexed tool structure with under cut of the movable area.

In another option, we could install air cooling system in stead of water cooling one for the slide core. But other cooling method such as conditioning cooler system needs to be added because of the fact that air cooling is inferior to the water cooling.

We must enhance cooling power without conditioning cooler system into the cooling path by using preassured gas cooling technology inside of the tool.
Tool cooling method by preassured gas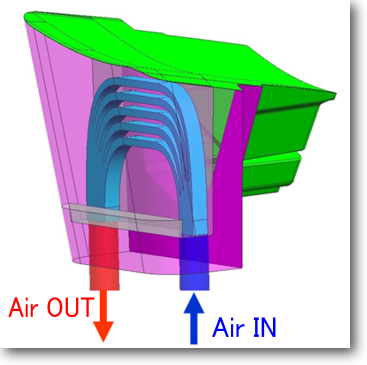 Install gas cooling path into the slide core of the plastic tooling.

 Lower the temperature by expanding the gas inside and flow the low temperature gas in the path to exchange temperature from the slide core.

In this way, we can achieve cooling the tool for the movable area and small part without depending on the conditioning cooler system.

In addition, automated ON/OFF switch of the air valve operates together with molding and part picking through tool close sensor in order to increase efficiency.

Continous challenge
We are studying to install this cooling method not only for slide core but also for small area believed to be impossible in the past.
The small area believed to be impossible to install cooling system.
In the past, the methods such as thin water pipe or heat pipe( heat exhange bar) has been used.

Water pipe, however tends to be thin and damages water flow due to uneven water volume.

Heatpipe is part of water cooling, thus making harder to locate closer to parting area.
"Tool cooling method by preassured gas" can be layed out in any small area.

Repair can be easy avoiding serious damage to the tool due to the state of gas. Better cooling efficiency can be obtained by using high heat conductive material such as copper.