アクセス
Access Map
Headquarters & plant
651-1 Izumi, Minami-ku, Niigata-city, Niigata JAPAN
TEL 025-373-3137 FAX 025-373-1218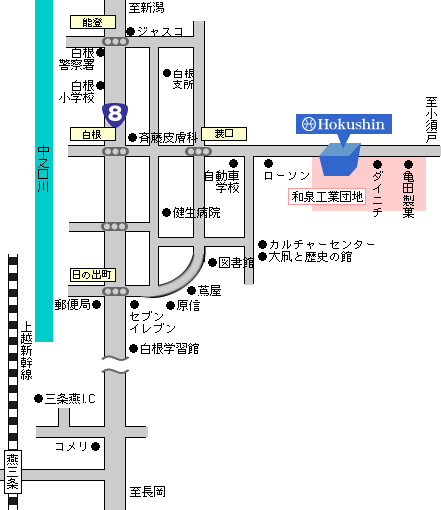 Google MAP
View larger map
株式会社 北辰金型工業所
By car

30min. drive on national road No.8 after getting off Sanjyo-Tsubame I.C. of Kanetsu Express Way.
30min. drive on national road No.460 after getting off Niitsu I.C. of Banetsu Express Way.
By train

Tsubame-Sanjyo Station of Jyoetsu Shinkansen Line. 30min. taxi ride from this station.
Niitsu Station of Shinetsu Line. 30min. taxi ride from this station.
Global Access
Niigata International Airport
25min. Limousine bus ride from Niigata station. 10min. ride from nearest I.C. of express way. Many people outside of Niigata-ken use this airport for domestic and overseas business.
Direct Flight
Domestic

Sapporo,Nagoya(Chubu International,Komaki),Osaka,Fukuoka,Okinawa(Naha)

International

Khabarovsk,Vladivostok,Seoul,Shanghai,Harvin,Guam
Niigata Port
Niigata Port is historical international sea port opened 1869 as one of the 5 ports opened in Japan.
Designated first on Japan sea side as "important base port of noth-east asia". Designated "Core international port of Japan sea side"with equipping oveaseas container terminal and growing in big business interchange of north-east asia.
Currently, Niigata port has two areas of west and east functionally, growing further to 150 years anniversary of 2019.
Sea Route
Busan Route 

Tomakomai,Akita,Toyama,Busan,Kanazawa,Naoetsu,Tsuruga

China-Busan Route

Tomakomai,Hachinohe,Busan,Ulsan,Gwangyang,Ningbo,Shanghai,Sendai,Tianjin New Port,Dalian,Qingdao,Pohang

South-East asia Route

Tomakomai,Hachinohe,Sendai,Keelung,Taichung,Kaohsiung,Hongkong,Shanghai

China Route 

Toyama,Kanazawa,Sakaiminato,Qingdao,Dalian,Maizuru,Otaru,Shanghai

Russia Far-East Route

(Vostochny,Vladivostok,Toyama,Kobe,Nagoya,Yokohama

Sado Route 
Hokkaido Tsuruga Route